Information for Volunteers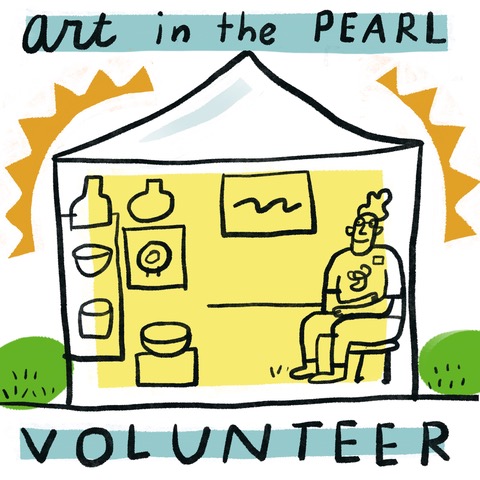 NOTICE: We are all filled up with volunteers for our 2023 show.
Feel free to sign up next summer for our 2024 show.
THANK YOU!
Please Join our Volunteer Team
Art in the Pearl couldn't happen without the help of our dedicated, community-minded, and fun volunteers!
As a volunteer, you'll be a part of Portland's vibrant art scene and experience one of the nation's best Fine Arts & Crafts events. You'll get to peek behind the curtain and work alongside the artists – learning about them, their art and discovering what the art festival life is all about. We encourage you to bring friends, family and/or co-workers to make the experience even more fun!
Additional perks include a commemorative t-shirt, complimentary sodas & snacks.
Our 3-day event needs 100 or more volunteers and we hope that you'll be one of them.
See below for details and SIGN UP today!
Days and Times
---
Friday September 1, 2023
Saturday, Sunday and Monday, September 2, 3 & 4, 2023
Sit in artists' booths to give them a break
Roam the festival handing out flyers, answering questions
Monday end of show – Assist with site breakdown as needed
Thank you in advance! You will have a wonderful time knowing that you are doing your part in contributing to your community and the arts.