Artist Profile – Jacquline Hurlbert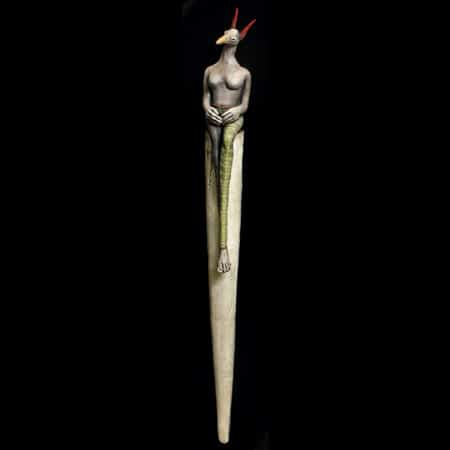 Jacquline will bring her wonderfully inventive work to Pearl for the tenth time this year.  Making imagery that populates an inner imaginary world, Jacquline describes her work as:
"'odd.'   I don't know how else to put it. I think it has a psychological twist that draws people in. They don't quite know what to make of it until they start looking at it closely. Then they seem to see something in it that they can relate to on some personal level.
Life experiences seem to be the fuel that drives me. I take those experiences, the good, the bad, and the ugly, and try to make artwork from them using my own symbols and imagery.
The fact that I was born and raised on a small mid-western farm has a lot to do with my love of nature and solitude which are reflected in my work.
Past relationships of all kinds are great creative fuel and show up over and over in my pieces.
The human condition, the big picture and the small can always influence what I'm doing in the studio. I love to delve into the psychological aspects that make us who we are."