Don't Miss This Year's Best of Show Winners!
Kina Crow will return to Pearl this year after completing some of the biggest best shows in the country this spring and summer.  Describing herself as "self-taught, self indulgent, self-absorbed and self-depreciating," Kina's humor and insight infuses clay and mixed media sculptures that blew Pearl's visitors' socks off last summer (and she nearly sold out).  Crow's little characters exude big notions and no doubt meeting with her would be as funny and engaging casino online as her work. Guaranteed cool!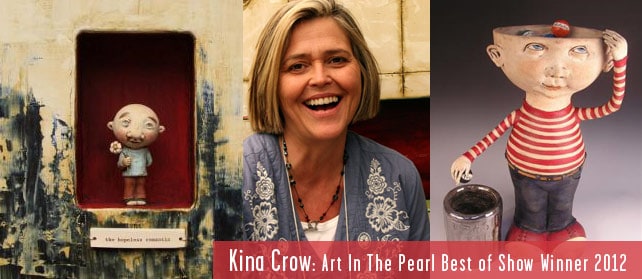 Arunas Oslapas will also return after a summer of shows with an entirely different visual story to tell.  Anyone who has ever encountered that metal strapping used around lumber, pallets or cartons, knows it is a sharp, spring-loaded beast.  Arunas makes the most beautiful baskets and quilts with the stuff; exquisitely colored and rusted, it's a visual "ahhh".  WAY wonderful!