We NEED Volunteers!
Art in the Pearl couldn't happen without the help of our dedicated, community-minded, and fun volunteers! Click here to Sign Up Now.
As a volunteer, you'll be a part of Portland's vibrant art scene and experience one of the nation's best Fine Arts & Crafts events. You'll get to peek behind the curtain and work alongside the artists – learning about them, their art and discovering what the art festival life is all about. We encourage you to bring friends, family and/or co-workers to make the experience even more fun!
Additional perks include a commemorative t-shirt,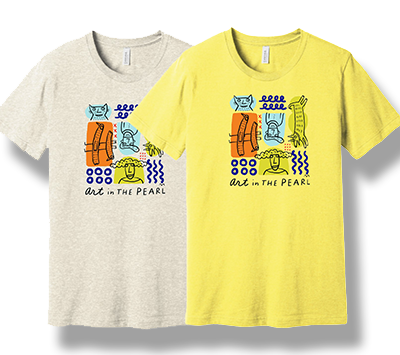 complimentary sodas & snacks AND a chance to win $50 in "Pearl Bucks" Friday-Sunday, with a mega-prize on Monday! (Pearl Bucks are good for purchases in our artists' booths, you must volunteer that day to be eligible to win).
Our 3-day event needs 100 or more volunteers and we hope that you'll be one of them. SIGN UP today!